Yoga Sutra Online Course (6 weeks in-depth training)
Thursday, 08. April – Thursday, 13. May
If you book this course you can watch all the remaining sessions live and get access to the recordings of all sessions.
Watch the opening class for free here: watch session 1/6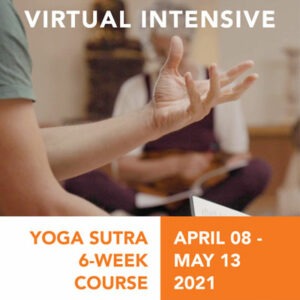 This 6-week yoga sutra online course allows you to understand the meaning of the Yoga Sutra as the guide for all Yoga practices and traditions. Diving deeply into the original Sanskrit is a must for all yoga enhtusiasts!
What is the meaning of Yoga, and what is the purpose of practicing it? How do I correctly practice asana, pranayama and samadhi? These ancient questions have been answered about two thousand years ago in Patañjali's ultimate manual of Yoga. The legendary "Yoga Sūtra" is the lighthouse and map of our Yoga practice, the jungle healer leading us out of the darkness of frustration to the light.
(…)
Last Minute: 50€ for all six sessions (regular price: 70€) including access to the recordings.
Cost for all sessions (6): 
Price of all sessions:  70€ 70€
All sessions will be recorded. Participants can get a personal link to the recordings upon request.
Join Grischa's retreat if you are interested getting the full picture and understand the interdependence of asana, pranayama, philosophy and meditation practices…