Yoga Philosophy, the map of Yoga
About Yoga Philosophy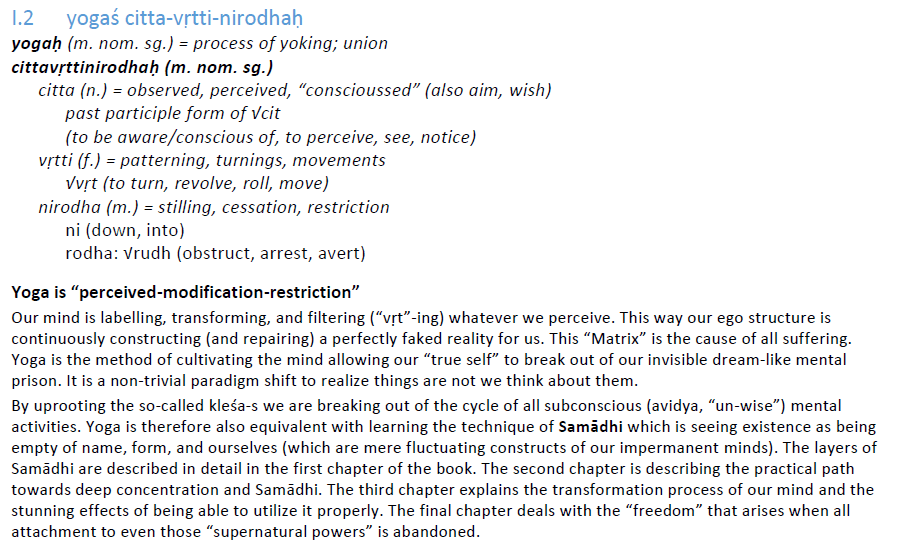 Patanjali Yoga Sutra Verse I.2 Yoga philosophy is often misunderstood as a theoretical discussion. Yet Yoga without knowledge is like trying to reach an unknown goal without a map.
Over thousands of years, uninterrupted lineages of Yoga philosophers and practitioners have been practicing and teaching the meaning of Yoga as a giant body of tools for the exploration into consciousness and the nature of the self. Only in the last few decades more and more teachers chose ignoring the ancient scriptures and invented all sorts of fake practices instead. What a disaster! Only with knowledge you can find out if your teachers have a clou about Yoga or if they just use "Yoga" as a marketing term to get your attention (and money).
Yoga is not about feeling good, not about improving the body and certainly not about looking sexy in exotic places on social media platforms. It is about discovering the whole world in your own heart and your love in the whole world. Your mind creates the world and you are created by the world.
Yoga Sutra
Especially the ca. 2000 years old Yoga Sutra by the sage Patanjali provides an excellent overview of the various techniques of Yoga and the ultimate goals of Yoga. Asana for example is one of the 8 central layers (
ashta-anga
!) of Yoga practice. It is the most important source of information we have. And yet Asana fills just 1% of the whole text. Pattabhi Jois' famous quote of "99% practice and 1% theory" is often misunderstood as 99% asana practice. Yet Yoga Sutra teaches us that asana is only 1% of all that needs to be practiced. You get a detailed translation of the Yoga Sutra in Grischa's retreats along with a number of selected sanskrit mantras. Please watching Grischa's video 120 min introduction to the Yoga Sutra as an initial overview:
Grischa's introduction to the Yoga Sutra
Bhagavad Gita
The Bhagavad Gita is an incredible text. On the surface it is a comprehensive yogic teaching of the warrior Arjuna by the legendary Krishna just before a murderous war. What is this war really that Krishna (aka "the lord") convinces poor Arjuna (aka "you") to fight? Please make sure to check out
Grischa's introduction to the Bhagavad Gita
Aparokshanubhuti
"One should know this as real āsana, in which meditation on Brahman flows spontaneously and unceasingly, and not any other that destroys one's happiness." Aparokṣanubhūthiḥ by Adi Shankara, ca. 800 AD Adi Shankara ("Shankaracarya") was one of P. Jois' favorite sages. This text is simply divine! Not only are the teachings of Advaita Vedanta cleverly summarized. In this text Shankara also pokes fun at the totally misunderstood yogic techniques right in front of our eyes that we even see in our beloved Ashtanga scene.
Watch Grischa's introduction to the Aparokshanubhuti
How can I learn more about "Yoga Philosophy, the map of Yoga"?
Asana is incomplete with Pranayama, practice without good alignment is harmful, Yoga practice without knowing the "philosophy" has no orientation. 
All components of Yoga practice need each other. Therefore all of Grischa's Retreat intensives are as complete as they can possibly be.
Many practitioners today learn only fractions of Yoga practices, in almost all cases only about the asana layer. If you are lucky to even hear about the other (much more powerful) practices, you normally need to find different teachers for different topics. But that is very problematic.
There are for example only few philosophy teachers and those often times have no idea about pranayama or asana. The experience shows, that studying from different teachers is fruitless. The teachings are unconnected and often not based on concrete experiences. But theoretical Yoga knowledge is useless just like "practice" without knowledge is ridiculous.
As teachers we MUST know and practice all yogic components. And we MUST know the theoretical foundation of all practices.
That is how Grischa has learnt it from his teacher Richard Freeman. You know why there is no alternative to this approach once you have experienced the difference between a mere asana teacher and one who has done his or her homework.
Upcoming Intensives in 2023
Mon, 3. July - 
Sun, 9. July
Mon, 1. April - 
Sun, 7. April
Holzmannstett (Bavaria, Germany)
Take your Ashtanga practice beyond with alignment workshops, philosophy and Sanskrit studies. Dive deeply into Grischa's magic ingredients for a transformative Mysore practice, pranayama and meditation. In addition this is a very special opportunity for studying one of the most inspiring texts on Yoga that exists, the famous Bhagavad Gita!
Other Key Aspects of Yoga Practice...