Ashtanga Online Course (Healing Alignment)
Sunday, 11. April – Sunday, 02. May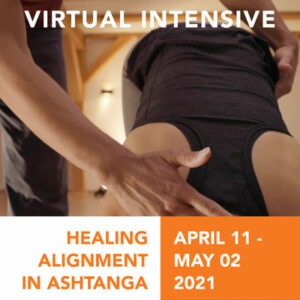 This course is for all yoga enthusiasts and teachers alike. Overcome unhealthy patterns of practice and understand the meaning of asana practice.
This ashtanga online course is an overview of Grischa's principles for practicing and teaching Ashtanga which come from 20 years of continuous individual Mysore teaching based on his studies with teachers like Richard Freeman and Maty Ezraty.
We will analyze the benefits and risks of many positions and vinyasas of the Ashtanga method. We will work out central basic principles of Ashtanga practice that allow you to recognize and solve the causes of problems in your yoga practice yourself.
(…)
All sessions will be recorded. Participants can get a personal link to the recordings upon request.
Join Grischa's retreat if you are interested getting the full picture and understand the interdependence of asana, pranayama, philosophy and meditation practices…